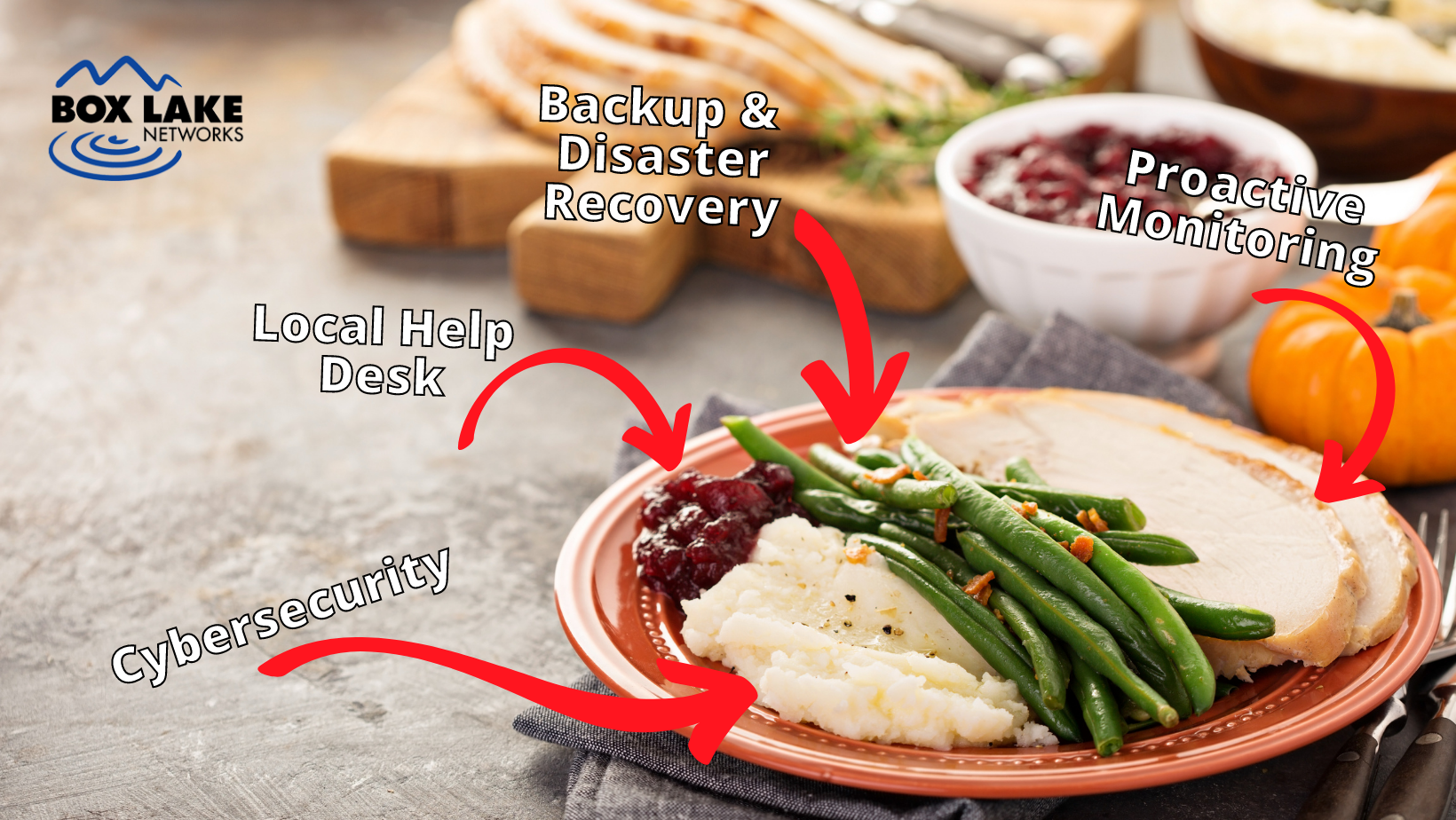 Managed Services: The Perfect Holiday Feast
Thanksgiving is here and many of us are looking forward to gathering with friends and family for a delicious and extravagant meal. While some may stay home, some may travel, and some may even meet at restaurants- we are all hoping for a plate of that perfect combination of holiday fares.
Many of us have different traditions but a traditional Thanksgiving feast usually involves turkey, mashed potatoes, a casserole or two, yams, cranberry sauce, stuffing, and the list goes on! You would never be satisfied with a whole plate of green bean casserole; you need that perfect combination of complementary flavors to be balanced and nourishing.
That's what Managed IT Services and your Thanksgiving dinner have in common! You need a variety of servings of a few essential services for a balanced Managed IT Solution. Whether you are cooking up your managed services in-house with an internal IT department or outsourcing to an IT Services provider like Box Lake, your plate isn't full without a few critical pieces.
Cybersecurity: The Mashed Potatoes and Gravy
With data breaches and ransomware attacks occurring daily, security should be essential on your Managed Services plate. Your Cybersecurity plan should include network protection, server protection, and end-user protection.
At Box Lake, we sweeten up your Managed Services plate with a local help desk team to answer your calls from our Winchester, KY office. Our help desk offers friendly and fast service from a team of techs who know your environment and can fix your problems.
No plate is complete without a little green and no IT solution is complete without Back up and Disaster Recovery. Gain peace of mind with automated offsite backup and the ability to minimize downtime in the event of a disaster with a DR plan.
It's not enough to have everything in place.  You need to understand how services are performing and constantly identify areas of risk to resolve issues before they can become a problem. At Box Lake, we use industry-leading monitoring tools to see performance and plan actions to avoid potential problems.